Κάποιοι επιστήμονες συστήνουν την τακτική κατανάλωσή του –όλοι ξέρουν πλέον ότι ένα-δυο ποτηράκια κρασί την ημέρα κάνουν καλό στην καρδιά- κι άλλοι αποθαρρύνουν τη χρήση και την κατάχρησή του. Οι έρευνες του τελευταίου έτους σχετικά με το αλκοόλ είναι αντιφατικές: άλλες κάνουν προσθήκες στις «ενδείξεις» του κι άλλες το «ενοχοποιούν» για προβλήματα υγείας. Όλα τελικά εξαρτώνονται από το πόσο και τι πίνει κανείς, από το αν είναι άνδρας ή γυναίκα και από την ηλικία στην οποία βρίσκεται.
Μελέτη του Ιατρικού Πανεπιστημίου της Βόρειας Καρολίνα δείχνει κατ' αρχήν ότι το «πολυδιαφηισμένο» καρδιαγγειακό όφελος του αλκοόλ εμφανίζεται άμεσα στα άτομα μέσης ηλικίας, και διασαφηνίζει ότι το όφελος αυτό είναι μεγαλύτερο για εκείνους που καταναλώνουν κρασί σε σχέση με εκείνους που καταναλώνυν άλλα οινοπνευματώδη.
Διαφορές ανάμεσα στα φύλα στην κατανάλωση αλκοόλ
Ωστόσο παρατηρούνται σημαντικές διαφορές ανάμεσα στα δύο φύλα. Μια ποσότητα αλκοόλ που μπορεί να είναι ευεργετική για έναν άνδρα, προστατεύοντας τον από την καρδιαγγειακή νόσο και τα αγγειακά εγκεφαλικά επεισόδια μπορεί για μια γυναίκα να έχει τα αντίθετα αποτελέσματα. Ιαπωνική μελέτη που εξέτασε το ιατρικό ιστορικό και το lifestyle 34.776 ανδρών και 48.906 γυναικών κατέληξε στο συμπέρασμα ότι οι άνδρες που κατανάλωναν μεγάλες ποσότητες αλκοόλ είχαν κατά 19% μικρότερες πιθανότητες να πεθάνουν από στεφανιαία νόσο σε σχέση με εκείνους που δεν έπιναν καθόλου.
Στον αντίποδα, οι γυναίκες που έπιναν αντίστοιχες ποσότητες οινοπνεύματος όχι μόνο δεν μείωσαν, αλλά αντιθέτως 4πλασίασαν τον κίνδυνό τους να πεθάνουν από καρδιά σε σχέση με τις γυναίκες που απείχαν πλήρως από το αλκοόλ. Τα αποτελέσματα της μελέτης που καταδεικνύουν ... διακρίσεις φύλου στην προστασία που παρέχει το αλκοόλ ξάφνιασαν ακόμη και τους επιστήμονες.
«Δεν περιμέναμε η κατανάλωση αλκοόλ να αυξάνει τον κίνδυνο για καρδιαγγειακή νόσο και εγκεφαλικό, δεδομένου ότι μέχρι τώρα γνωρίζαμε πως το αλκοόλ περιορίζει την ικανότητα του αίματος να δημιουργεί θρόμβους», τόνισε ο επικεφαλής της έρευνας, Χιρογιάσου Ίζο.
Ηλικιωμένοι
Στα άτομα μεγάλης ηλικίας η ελαφριά και μέτρια κατανάλωση αλκοόλ, μπορεί να αποτρέψει την εμφάνιση σωματικής αναπηρίας, υποστηρίζει έρευνα της Ιατρικής Σχολής του UCLA. Προϋπόθεση, σύμφωνα με τον επικεφαλής της μελέτης είναι η καλή υγεία του ατόμου. «Σε ένα άτομο με καλή υγεία, η ελαφριά και μέτρια κατανάλωση αλκοόλ μπορεί να φέρει σημαντικά οφέλη. Αν όμως η αφετηρία δεν είναι καλή, το αλκοόλ δεν θα προσφέρει κανένα όφελος», τονίζει ο δρ. Άρουν Καρλαμάνγκλα.
Περιορισμός αλλοιώσεων από το αλκοόλ
Στους ηλικιωμένους, η κατανάλωση οινοπνευματωδών ποτών έχει συσχετιστεί επίσης με τη διατήρηση της καλής κατάστασης του εγκεφάλου. Σύμφωνα με έρευνα της Ιατρικής Σχολής του Χάρβαρντ, το αλκοόλ καταπολεμά τις εγκεφαλικές φθορές που σχετίζονται με την ηλικία. Δεδομένου ότι η μέτρια κατανάλωση αλκοόλ σχετίζεται με μικρότερο καρδιαγγειακό κίνδυνο και ο εγκέφαλος τροφοδοτείται από αυτό το σύστημα, ήταν επόμενο να υποτεθεί ότι οι μικρές ποσότητες αλκοόλ μπορούν να περιορίσουν αυτές τις αλλοιώσεις. Ο κύριος ερευνητής Κένεθ Μουκάμαλ ωστόσο, σημειώνει ότι υπάρχουν και κακά νέα˙ Τονίζει ότι «κάθε αλκοολούχο ποτό που καταναλώνει κανείς πέραν κάποιου ορίου προκαλεί συρρίκνωση του εγκεφάλου».
Μείωση του όγκου του εγκεφάλου
Τον ισχυρισμό επιβεβαιώνει πρόσφατη μελέτη που δημοσιεύεται στην επιθερώρηση «Archives of Neurology». Σύμφωνα με αυτήν, η κατανάλωση αλκοόλ μειώνει τον όγκο του εγκεφάλου, και μάλιστα τα αποτελέσματα αυτής της δράσης είναι εμφανέστερα και εκτενέστερα στις γυναίκες παρά στους άνδρες, σημειώνει η έρευνα. Όσο για τη μακροχρόνια κατανάλωση αλκοολούχων ποτών; Αυτή μπορεί να έχει ολέθρια εκφυλιστική επίδραση στον εγκέφαλο, προκαλώντας ακόμη και άνοια.
Μείωση εμφάνισης καλοήθους υπερπλασίας του προστάτου
Για να επιστρέψουμε στις θετικές επιδράσεις, στεκόμαστε στη δημοσίευση του Κέντρου Έρευνας του Καρκίνου «Φρεντ Χάτσινσον», σύμφωνα με την οποία η μέτρια χρήση αλκοόλ μειώνει την πιθανότητα εμφάνισης καλοήθους υπερπλασίας του προστάτου. Πώς; Επηρεάζοντας την παραγωγή και το μεταβολισμό της τεστοστερόνης, μειώνοντας τις κυκλοφορούσες ορμόνες και περιορίζοντας τον μυικό τόνο του προστάτη. Η ομάδα του δείγματος που έπινε δυο ποτηράκια την ημέρα είδε τον κίνδυνό της για τη συγκεκριμένη πάθηση να μειώνεται κατά 38%.
Προβλήματα στο γυναικείο αναπαραγωγικό σύστημα
Για τις γυναίκες οι ειδήσεις σχετικά με τις επιδράσεις του αλκοόλ στην αναπαραγωγική τους ικανότητα είναι μάλλον δυσάρεστες. Η αυξημένη κατανάλωση αλκοόλ από νεαρές γυναίκες μπορεί να προκαλέσει προβλήματα στο αναπαραγωγικό τους σύστημα, όπως διαταραχές κύκλου, σεξουαλική δυσλειτουργία και επιπλοκές σε τυχόν κύηση (όπως αποβολές). Ειδικά για τις γυναίκες που έχουν προβλήματα γονιμότητας, η ομάδα από την Ιατρική Σχολή του Πανεπιστημίου της Ουάσινγκτον και το Πανεπιστήμιο της Βόρειας Ντακότα που υπογράφει την έρευνα, συστήνει την αποφυγή της κατανάλωσης αλκοόλ προκειμένου να ξεφύγουν από το στρες που τους προκαλούν οι αποτυχημένες απόπειρες γονιμοποίησης, γιατί με τον τρόπο αυτό η αναπαραγωγική τους δυσκολία επιτείνεται.
Αυξημένος κίνδυνος αλλεργικής ρινίτιδας
Δανέζικη μελέτη σε 5.870 γυναίκες έδειξε επίσης ότι οι γυναίκες που καταναλώνουν περισσότερα από δύο αλκοολούχα ποτέ ημερησίως έχουν αυξημένο κίνδυνο (κατά 78%) να εμφανίσουν χρόνια αλλεργική ρινίτιδα σε σχέση με τις γυναίκες που κατανάλωναν λιγότερα από ένα ποτά ανά εβδομάδα.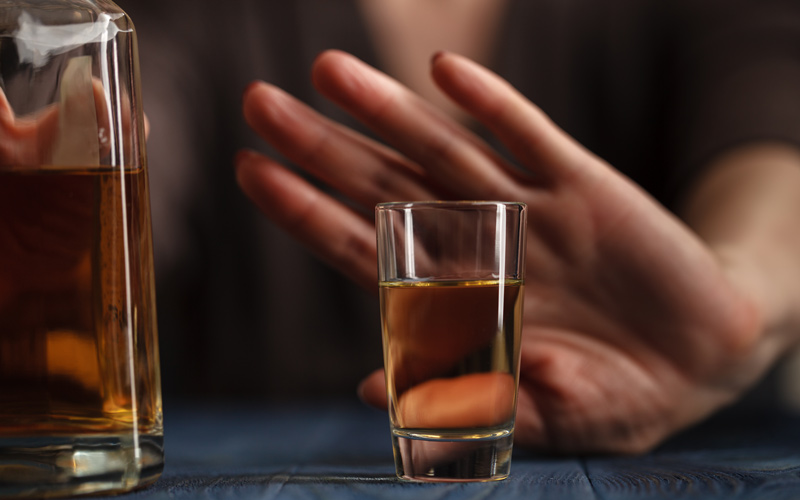 Παιδιά και έφηβοι
Για τις μικρότερες ηλικίες, η αποχή από τη χρήση οινοπνεύματος ισοδυναμεί με εισιτήριο καλής υγείας στην ενήλικη ζωή τους. Σύμφωνα με μελέτη που πραγματοποίησαν από κοινού επιστήμονες από τις ΗΠΑ, τη Μεγάλη Βρετανία και τη Νέα Ζηλανδία, τα παιδιά που καταναλώνουν αλκοόλ ή κάνουν χρήση μαριχουάνας στα 15 τους, όταν γίνουν 30 έχουν πολύ περισσότερα προβλήματα υγείας και επιπλέον μεγαλύτερες πιθανότητες να έχουν βιώσει ως αυτήν την ηλικία μια ανεπιθύμητη εγκυμοσύνη ή μια σχολική αποτυχία, να έχουν προσβληθεί από κάποιο σεξουαλικά μεταδιδόμενο νόσημα ή να έχουν καταδικαστεί για κάποια παράνομη πράξη.
«Καμπανάκι κινδύνου» για τις γυναίκες που καταναλώνουν αλκοόλ στη διάρκεια της εγκυμοσύνης τους κρούουν επιστήμονες από το Πανεπιστήμιο της Μινεσότα, επισημαίνοντας ότι η προγεννητική έκθεση στο οινόπνευμα μπορεί να προκαλέσει σοβαρά προβλήματα στις εγκεφαλικές συνδέσεις του εμβρύου και στις γνωστικές του λειτουργίες. Είναι χαρακτηριστικό ότι περίπου 4.000 παιδιά με ανωμαλίες που σχετίζονται με τη συχνή κατανάλωση αλκοόλ από τη μητέρα στη διάρκεια της εγκυμοσύνης γεννιούνται κάθε χρόνο στη Γερμανία. Τα συχνότερα προβλήματα που εμφανίζουν τα βρέφη είναι μικρό βάρος γέννησης, κρανιοπροσωπικές δυσμορφίες και καθυστέρηση στη σωματική και νοητική τους ανάπτυξη.
Υπάρχει γενετική προδιάθεση για τον αλκοολισμό;
Οι αλκοολικοί μπορούν πλέον να ενοπιστούν πολύ πριν αναπτύξουν την σωματική ή ψυχολογική εξάρτησή τους από το αλκοόλ, καθώς οι επιστήμονες κατάφεραν να εντοπίσουν τη γενετική βάση του προβλήματος, σε ένα γονίδιο στο χρωμόσωμα 15, που αυξάνει τον κίνδυνο να γίνει κανείς αλκοολικός.
Το ίδιο γονίδιο εμπλέκεται στην εξάρτηση από τη νικοτίνη και έχει συνδεθεί με αυξημένες πιθανότητες εμφάνισης καρκίνου του πνεύμονα. «Υπάρχει η ιδέα ότι δεκάδες γονίδια εμπλέκονται στις διαταραχές που έχουν να κάνουν με την κατανάλωση αλκοόλ. Το συγκεκριμένο γονίδιο παρουσιάζει μεγάλο ενδιαφέρον, επειδή πολλά πράγματα έχουν συσχετιστεί με αυτό», σημειώνει ο καθηγητής του Πανεπιστημίου της Καλιφόρνια Ρέιμοντ Γουάιτ.
Η σημασία της ανακάλυψης έγκειται στο ότι μπορεί να οδηγήσει στην ανάπτυξη ενός γονιδιακού τεστ που θα επιτρέπει στον οποιοδήποτε να «τσεκάρει» την προδιάθεσή του. Επιπλέον, θα μπορούσε να στραφεί στην ανάπτυξη ενός φαρμάκου κατά της εξάρτησης από το οινόπνευμα που θα καταπολεμά τα «προβληματικά» γονίδια.
Η έρευνα δημοσιεύεται στην επιθώρηση Proceedings of the National Academy of Sciences.