Ο διακεκριμένος Καθηγητής Ογκολογίας, πρωτεργάτης της Χάρτας των Παρισίων κατά του Καρκίνου και πρόεδρος και ιδρυτής της AVEC (L'Association pour la Vie Espoir contre le Cancer), David Khayat, παραχώρησε στο medNutrition συνέντευξη σχετικά με τη σχέση του καρκίνου με τη διατροφή.
Ποια είναι η συχνότητα εμφάνισης καρκίνου στις μέρες μας στην Ευρώπη;
Στην Ευρώπη, έχουμε περίπου 2,8 εκατομμύρια νέες περιπτώσεις καρκίνου κάθε χρόνο.
Ποιες είναι οι πιο συχνές μορφές καρκίνου;
Οι πιο συχνές μορφές όγκων είναι, για τις γυναίκες, του μαστού που ακολουθείται από του παχέος εντέρου και, για τους άνδρες, ο καρκίνος του προστάτη και ακολουθεί ο καρκίνος του πνεύμονα και του παχέος εντέρου.
Υπάρχει διαφορά μεταξύ Ελλάδας και Γαλλίας στην συχνότητα εμφάνισης;
Δεν υπάρχει τέτοια διαφορά μεταξύ της επίπτωσης του καρκίνου στη Γαλλία και στην Ελλάδα.
Πόσο μεγάλη είναι η επίδραση της διατροφής και ειδικά της παχυσαρκίας στον κίνδυνο εμφάνισης καρκίνου;
Το σωματικό βάρος και ειδικότερα η παχυσαρκία έχουν αντίκτυπο στον κίνδυνο εμφάνισης καρκίνου, αυξάνοντας τον κίνδυνο αυτό πολύ σημαντικά λόγω του ότι τα λιποκύτταρα παράγουν IGF (ινσουλινόμορφο αυξητικό παράγοντα), ο οποίος είναι ένας αυξητικός παράγοντας που παρακινεί την ανάπτυξη των καρκινικών κυττάρων.
Ποια ομάδα είναι πιο ευαίσθητη στην επίδραση των διατροφικών συνηθειών σχετικά με τον καρκίνο;
Στην πραγματικότητα, οι διατροφικές συνήθειες μπορεί να επηρεάσουν τον ατομικό κίνδυνο καρκίνου του είτε είσαι νέος ή ηλικιωμένος, μαύρος ή άσπρος , άνδρας ή γυναίκα...
Ωστόσο, είναι προφανές ότι δεν μπορεί κανείς να φανταστεί μια καθολική διατροφή κατά του καρκίνου! Πιθανότατα, στο μέλλον, θα είμαστε σε θέση να εντοπίσουμε κάποια τρόφιμα που θα είναι καλύτερα για τους άνδρες ή τις γυναίκες, για τα παιδιά ή τους ηλικιωμένους.
Για παράδειγμα, γνωρίζουμε ήδη ότι η βιταμίνη Ε αυξάνει τον κίνδυνο καρκίνου του προστάτη στους άνδρες, αλλά δεν έχει καμία επίδραση στον κίνδυνο καρκίνου στις γυναίκες. Αυτή είναι η περίπτωση για πολλά άλλα θρεπτικά συστατικά και τα τρόφιμα.
Ποιος διατροφικός παράγοντας έχει την μεγαλύτερη επίδραση;
Είναι δύσκολο να πούμε ποιες είναι οι διατροφικές συνήθειες που πρέπει να αποφεύγονται. Αυτό που είναι σημαντικό, είναι να έχεις μια υψηλή ποικιλία σε ό,τι τρώς, για παράδειγμα, ακολουθώντας τις εποχές.
Αυτό που ονομάζουμε «δυτικοποίηση» της διατροφής μας ( που σημαίνει ότι επηρεαζόμαστε από τις αμερικανικές διατροφικές συνήθειες) έχει προκληθεί, κυρίως από μια πολύ φτωχή ποικιλία στην επιλογή των τροφίμων μας και, από μιας πιο σφαιρικής άποψης, από το να τρώμε πάρα πολύ, υπερβολικά αλατισμένα, υπερβολικά λιπαρά, πάρα πολλή ζάχαρη, όχι με οργανωμένα γεύματα, αλλά ως επί το πλείστον σε οποιαδήποτε στιγμή κατά τη διάρκεια της ημέρας και χωρίς αρκετή φυσική δραστηριότητα.
Μπορεί ένα διατροφικό πρόγραμμα να προστατέψει;
Δυστυχώς, δεν έχει ακόμη προσδιορισθεί η διατροφή, η οποία θα μπορούσε να αποτρέψει κάποιον με μια γενετική προδιάθεση από το να αναπτύξει κακοήθειες.
Γαλακτοκομικά προϊόντα και διάφορες μορφές καρκίνου
Σχετικά με τα γαλακτοκομικά προϊόντα, πράγματι ,τα αποτελέσματα είναι πολύ αντιφατικά.
Φαίνεται ότι το να τρώει κανείς πολλά γαλακτοκομικά προϊόντα μπορεί να αυξήσει τον κίνδυνο καρκίνου του προστάτη στους άνδρες, αλλά να μειώσει τον κίνδυνο καρκίνου του παχέος εντέρου στις γυναίκες.
Μπορούν τα συμπληρώματα να επηρεάσουν τον κίνδυνο εμφάνισης καρκίνου;
Νομίζω ότι δεν πρέπει να παίρνουμε οποιουδήποτε είδους συμπληρώματα, επειδή δεν ξέρουμε τι προκαλούμε με την χρήση των περισσότερων από αυτά τα συμπληρώματα . Για παράδειγμα, αρκετές μελέτες έχουν δείξει ότι τα συμπληρώματα που κατασκευάζονται από β-καροτένιο, ή αλλιώς ρετινοειδή ή βιταμίνη Α, αυξάνουν πολύ σημαντικά τον κίνδυνο καρκίνου του πνεύμονα σε καπνιστές.
Ωστόσο, δεν υπάρχει τέτοια αύξηση στον κίνδυνο καρκίνου του πνεύμονα με αυτές τις βιταμίνες ή συμπληρώματα στον πληθυσμό μη καπνιζόντων. Έτσι, όπως είπα και πάλι, η σύνδεση και η σχέση ανάμεσα σε αυτό που τρώμε και τον κίνδυνο ανάπτυξης αυτού του είδους ή γενικότερα καρκίνου είναι πολύ πιο περίπλοκη ότι μπορεί να φανταστεί κανείς.
Είμαστε στην αρχή μιας νέας επιστήμης που ονομάζεται γονιδιακή διατροφή, η οποία θα μπορέσει να εξηγήσει.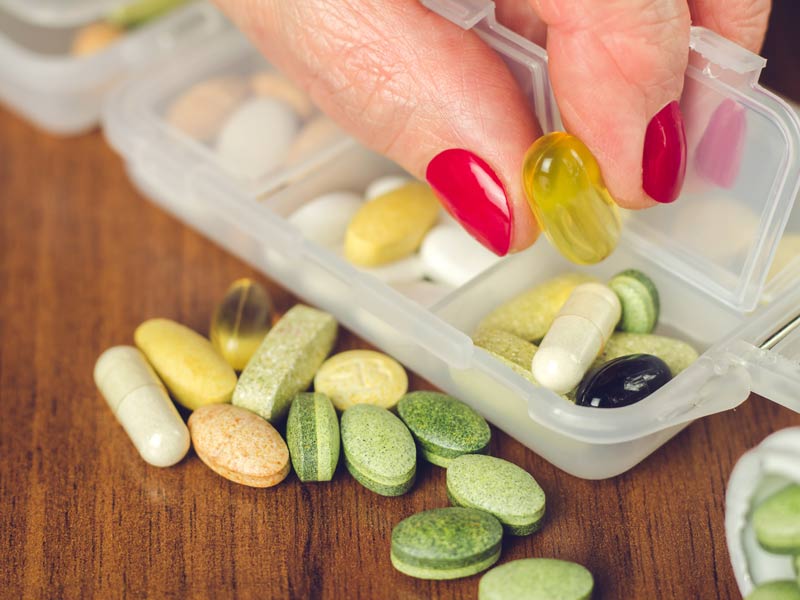 Έχουν ευεργετικές ιδιότητες τα ψάρια όσον αφορά τον καρκίνο;
Σχετικά με τα ψάρια, και πάλι νομίζω ότι είναι αδύνατο να πούμε ότι είναι πάντα καλά για την υγεία σας. Υπάρχουν πολλά ψάρια όπως ο σολομός, ο ερυθρός τόνος, ο ξιφίας, η ιππόγλωσσα που είναι έντονα μολυσμένα από βαρέα μέταλλα, όπως ο υδράργυρος, το αρσενικό, το κάδμιο και επίσης και τα μολυσμένα (κυρίως αφορά τον σολομό) από τα POPs (ανθεκτικοί οργανικοί ρύποι), όπως διοξίνη και πυραλένιο.
Όλα αυτά τα προϊόντα είναι ιδιαίτερα καρκινογόνα και η συγκέντρωση που μπορεί να επιτευχθεί σε ορισμένα ψάρια είναι τόσο υψηλή, ώστε μπορεί να θεωρηθεί ότι η κατανάλωση σε τακτική βάση αυτών των ειδών των ψαριών μπορεί να επηρεάσει τον κίνδυνο καρκίνου.
Μια άλλη πτυχή της συσχέτισης κατανάλωσης ψαριών με τον καρκίνο είναι ότι έχει αποδειχθεί νωρίτερα αυτό το χρόνο, μέσα από διάφορες μελέτες, ότι η υψηλή κατανάλωση ωμέγα-3, είτε ως συμπληρώματα ή μέσω της διατροφής του λίπους ψαριών φαίνεται να είναι σε θέση να αυξήσει τον κίνδυνο για πολύ επιθετικό καρκίνο του προστάτη.
Επίδραση του κρασιού και του αλκοόλ στις περιπτώσεις καρκίνου
Δεν θα μιλήσω για το αλκοόλ το οποίο προφανώς δεν είναι καλή τροφή.
Ωστόσο, το κρασί δεν είναι τόσο κακό πράγμα! Αν έχετε μια μέτρια κατανάλωση αλκοόλ , που σημαίνει λιγότερο από 2 ποτήρια την ημέρα για τη μέση γυναίκα και λιγότερο από 3 ποτήρια την ημέρα για τους άνδρες, λόγω των πολυφαινολών και την ρεσβερατρόλη που περιέχει το κρασί (κυρίως το κόκκινο κρασί), δεν θα αυξηθεί ο κίνδυνος καρκίνου και μπορεί να μειωθεί ο κίνδυνος καρδιαγγειακών παθήσεων.
Ωστόσο, αν πίνετε μια μεγαλύτερη ποσότητα του κρασιού, μπορεί πράγματι να αυξηθεί ο κίνδυνος εμφάνισης κάποιων μορφών καρκίνου, συμπεριλαμβανομένων για παράδειγμα του στόματος, του οισοφάγου, του στομάχου.
---
Το παραπάνω κείμενο αποτελεί μετάφραση στη ελληνικά από την πρωτότυπη συνέντευξη, η οποία παρατίθεται παρακάτω:
Which is the prevalence of cancer thesedays in Europe and which types are mostly observed?
In Europe, we have about 2.8 Million new cases of cancer every year and the most frequent tumor types are, for women, breast followed by colorectal and, for men, prostate cancer followed by lung cancer and colorectal cancer.
Are there any important differences noticed between incidence of cancer in France and Greece?
There is no such difference between the incidence of cancer in France and in Greece.
How much an impact does body weight and especially obesity have on cancer risk?
Body weight and especially obesity have an impact on cancer risks, increasing this risk very significantly because adipocytes are producing IGF which is a growth factor that stimulates the growth of cancer cells.
Is there any age group that is more susceptible to the positive or negative impact their eating habits have on their cancer risk?
In fact, eating habits may impact the individual cancer risk whether you are young or old, black or white, a man or a woman… However, it is obvious that one cannot imagine a universal diet against cancer!
Most probably, in the future we will be able to identify some foods that will be better for men or for women, for children or for senior citizens.
For instance, we already know that Vitamin E increases the risk of prostate cancer in men but has no impact on the risk of cancer in women. This is the case for many other nutrients and foods.
Which nutrition factor do you believe has a bigger impact on cancer risk and which dietary habits are better to be avoided?
It is difficult to say which are the dietary habits that should be avoided. What is important, is to have a high variety in what you eat, following for instance the seasons.
What we call the "westernization" of our nutrition (which means that we are influenced by American eating habits) is meanly made of a very poor variety in the selection of your foods and, on a more global view, eating too much, too salted, too fat, too much sugar, not with organized meals but at any time during the day and not having enough physical activity.
Could a diet plan prevent someone with a genetic predisposition from expressing the disease?
Unfortunately no diet has been yet indentified that could prevent someone with a genetic predisposition to develop malignancies.
Dairy products have shown different results on different types of cancer. Which types does this refer to and how is it explained?
About dairy products, indeed the results are very conflicting. It looks like eating a lot of dairy products may increase the risk of prostate cancer in men but decrease the risk of colorectal cancer in women.
Do you think supplements are a factor that could affect cancer risk? If so, what type of supplements do you think have the greatest impact?
I think that we should not take any kind of supplements because we don't know what we are causing by taking most of these supplements. For instance, several studies have shown that supplements made of beta-carotene, or retinoide or vitamin A, increase very significantly the risk of lung cancer in smokers.
However, there is no such an increase in the risk of lung cancer with these vitamins or supplements in the non smoking population. So, as I said, the link and the relationship between what you eat and the risk of developing that type or that cancer is much more complex that one can imagine. We are at the beginning of a new science called nutrigenomic that will explain.
Fish is a food group that has been thought to have many beneficial properties. Does this stand for cancer as well?
About fish, again I think that it is impossible to say that fish are always good for your health. There are several fishes including salmon, red tuna, sword fish, halibut that are heavily contaminated by heavy metal such as mercury, arsenic, and cadmium, and contaminated also (mainly for the salmon) by POPs (persistent organic pollutants), such as dioxin and pyralen.
All these products are highly carcinogenic and the concentration that can be found in some fishes are so high that it can be considered that eating on a regular base these kinds of fish may impact on the risk of cancer.
Another aspect of the relation between fish consumption and cancer is that it has been shown earlier this year, through several studies, that the high consumption of omega-3 fatty acids, either as supplements or through the consumption of fat fishes, seems to be able to increase the risk of very aggressive prostate cancer.
What is your opinion on the effect of wine and alcohol in cancer cases?
I will not speak about alcohol which obviously is not a good nutriment. However wine is not such a bad thing! If you have a moderate drinking, which means less than 2 glasses per day for the average woman and less than 3 glasses per day for a man, because of the polyphenols and the resveratrol that the wine contains (mainly in the red wine), that will not increase the risk of cancer and may decrease the risk of cardiovascular diseases.
However, if you drink a higher quantity of wine, you may indeed increase the risk of developing some types of cancer, including mouth, esophageal, gastric cancers for instance.