Υπό την συνεχή αξιοσημείωτη αύξηση της παχυσαρκίας τις τελευταίες δεκαετίες αλλά και των χρόνιων νοσημάτων που τη συνοδεύουν, η επιστημονική κοινότητα έχει διερευνήσει την συμβολή των ολιγοθερμιδικών γλυκαντικών υλών στην αντιμετώπιση του φαινομένου.
Αν και εμφανίστηκαν λίγες μελέτες στο παρελθόν που πρότειναν ότι οι ολιγοθερμιδικές γλυκαντικές ύλες αυξάνουν τελικά την όρεξη και τις λιγούρες για γλυκό, κάτι τέτοιο δεν έχει επιβεβαιωθεί μέχρι σήμερα, μετά 30 χρόνια μελετών. Οι Miller και Perez διεξήγαγαν μια μετανάλυση, την πιο αξιόπιστη μεθοδολογικά έρευνα που είναι διαθέσιμη, με σκοπό να αξιολογήσουν και ποσοτικά τη σχέση που τελικά συνδέει τις ολιγοθερμιδικές γλυκαντικές ύλες με το βάρος.
Στην μετανάλυσή τους συμπεριέλαβαν 15 τυχαιοποιημένες κλινικές δοκιμές και 9 προοπτικές μελέτες που εξέταζαν στα πορίσματά τους ένα από τα ακόλουθα: σωματικό βάρος, σωματικό λίπος, δείκτης μάζας σώματος, περιφέρεια μέσης. Οι συμμετέχοντες ήταν ενήλικες και των δύο φύλων, με περισσότερες τις γυναίκες, αλλά και παιδιά.
Τα αποτελέσματα της μελέτης
Ξεκινώντας με τα αποτελέσματα της μετανάλυσης των επιδημιολογικών μελετών διαφαίνεται μια μικρή θετική συσχέτιση της κατανάλωσης ολιγοθερμιδικών γλυκαντικών υλών με το ΔΜΣ αλλά όχι με το βάρος ή το σωματικό λίπος (για την περιφέρεια μέσης δεν ήταν επαρκείς οι έρευνες προς ανάλυση) [CI: 0.03 (0.01-0.06)].
Αντίθετα, εξετάζοντας κάποιος τις κλινικές δοκιμές, οι οποίες αποτελούν την μέθοδο αναφοράς για την διερεύνηση της αιτιολογικής σχέσης, η μετανάλυσή τους έδειξε στατιστικά σημαντική μείωσης τόσο στο ΔΜΣ όσο και στο σωματικό βάρος, το σωματικό λίπος αλλά και την περιφέρεια μέσης [CI: -0.80 (-1.17, -0.43)] (βλ. γράφημα 1).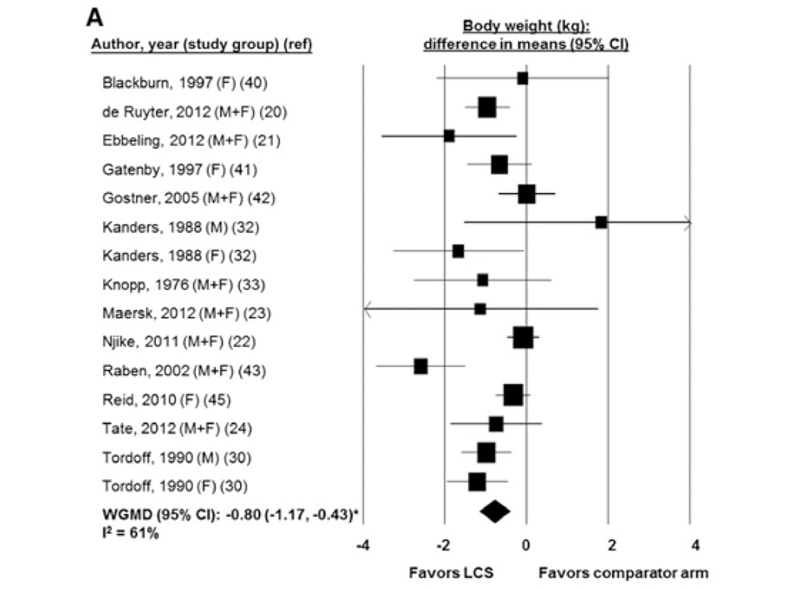 Γράφημα 1. Διάγραμμα forest plot που απεικονίζει την συσχέτιση της κατανάλωσης ολιγοθερμιδικών γλυκαντικών υλών ή όχι με το σωατικό βάρος - αποτελέσματα μετανάλυσης κλινικών δοκιμών (Miller and Perez 2014).
Τι να παρατηρήσετε
Παρατηρώντας τα αποτελέσματα αυτής της έρευνας επιβεβαιώνεται για ακόμη μια φορά το πόσο σημαντικό είναι να υπάρχουν τυχαιοποιημένες κλινικές μελέτες για να βγάλει ένας επιστήμονας υγείας το οποιοδήποτε πόρισμα καθώς ανάμεσα στους σημαντικούς περιορισμούς των επιδημιολογικών μελετών ήταν:
Ανεπαρκής έλεγχος των αποτελεσμάτων τους ως προς πιθανούς συγχυτικούς παράγοντες
Ανεπαρκείς μετρήσεις της κατανάλωσης των ολιγοθερμιδικών γλυκαντικών υλών
Μη διερεύνηση μιας αντίστροφης αιτιολογικής σχέσης
Προκύπτει επίσης η ανάγκη να διερευνήσει κανείς περαιτέρω ποιο είναι το γενικότερο διατροφικό προφίλ των ατόμων που επιλέγουν τρόφιμα ή ροφήματα με ολιγοθερμιδικές γλυκαντικές ύλες καθώς μπορεί οι τελευταίες να παίζουν έναν ρόλο ενισχύοντας πιο υγιεινά διατροφικά μοτίβα.
Σε αυτό το πλαίσιο φάνηκε από σχετική μελέτη ότι άτομα που επέλεγαν τέτοια τρόφιμα, συνήθως είχαν μικρότερη κατανάλωση γλυκισμάτων, αλκοόλ και γενικότερα θερμίδων-κάτι που αμφισβητεί παλιότερες υποθέσεις της κατανάλωσης ολιγοθερμιδικών γλυκαντικών ότι μπορεί να πυροδοτούν λιγούρες.
Ποιο είναι το τελικό πόρισμα;
«On the basis of the available scientific literature to date, substituting LCS options for their regular-calorie versions results in a modest weight loss and may be a useful dietary tool to improve compliance with weight-loss or weight-maintenance plans» καταλήγουν οι ερευνητές. Το τελευταίο κομμάτι είναι αυτό που θα κράταγα και εγώ σαν απόσταγμα-οι ολιγοθερμιδικές γλυκαντικές ύλες παρόλο που φαίνεται να έχουν μικρή επίδραση στη μείωση του βάρους (0.8 κιλά), αποτελούν σπουδαία εξέλιξη στην τεχνολογία τροφίμων για ένα απλό λόγο: διατηρούν την γλυκιά γεύση που εκ γενετής έχει ανάγκη ο ανθρώπινος οργανισμός.
Συνήθως σε ροφήματα και τρόφιμα του εμπορίου, χρησιμοποιούνται διάφορες ολιγοθερμιδικές γλυκαντικές ύλες και η ασφάλειά τους έχει επανηλειμένως εξεταστεί από διεθνείς φορείς ενώ οι γλυκοζίτες της στεβιόλης είναι η τελευταία ανακάλυψη φυτικής προέλευσης και πολλά υποσχόμενη.
Το να συνεχίζει να έχει νόστιμα γεύματα και να μην στερείται κάποιος που προσέχει το βάρος του είναι πολύ σημαντικό για να έχει καλύτερη προσκόλληση στο πρόγραμμα διατροφής-σκεφτείτε στην ψυχολογία του, πόσο ευχάριστο θα είναι για παράδειγμα να συνεχίζει να απολαμβάνει τώρα που είναι καλοκαίρι ένα γευστικό παγωτό που περιέχει λιγότερες θερμίδες λόγω ολιγοθερμιδικών γλυκαντικών! Αυτό λοιπόν, για μένα δίνει και κλινική σημαντικότητα, εκτός από στατιστική όπως αποδείχτηκε, στο τελικό πόρισμα αυτής της μετανάλυσης.