Πόσες φορές έχετε παρευρεθεί σε συνέδριο του εξωτερικού; Για εμένα το 24ο Ευρωπαϊκό Συνέδριο Παχυσαρκίας που διοργανώθηκε στο Πόρτο της Πορτογαλίας ήταν μοναδική εμπειρία! Διοργανώθηκε από την Εuropean Association for the Study of Obesity (EASO) το Μάιο σε ένα μεγάλο ιστορικό συνεδριακό κέντρο (Alfândega Congress Centre).
Οι ομιλίες περιελάμβαναν τα τελευταία επιστημονικά δεδομένα και τις κλινικές προσεγγίσεις για την παχυσαρκία από ένα ευρύ φάσμα πεδίων. Τα ζητήματα που καλύφθηκαν αφορούσαν πολλές κατευθύνσεις. Ενδεικτικά αφορούσαν:
την παιδική παχυσαρκία,
τις παρεμβάσεις συμπεριφοράς και του τρόπου ζωής,
επιδημιολογικά δεδομένα,
ιδιαιτερότητες των τροφίμων,
απώλεια βάρους έναντι συντήρησης βάρους.
Πάμε, όμως να δούμε κάποια από αυτά τα ζητήματα που μου τράβηξαν το ενδιαφέρον!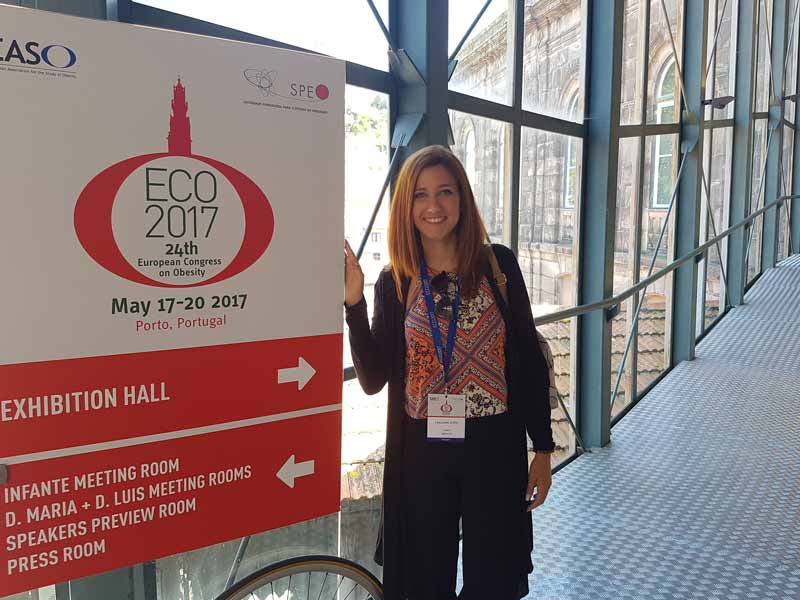 Η φυσική δραστηριότητα σε έναν παχύσαρκο
Για ακόμη μία φορά παρουσιάστηκε η σημαντικότητα του ρόλου της φυσικής δραστηριότητας στην απώλεια του βάρους. Η άσκηση στο νερό και με ποδήλατο είναι οι 2 καλύτερες και πιο ωφέλιμες επιλογές φυσικής δραστηριότητας, καθώς όπως ανέφερε o Μ. Holecki, η άνωση του νερού περιορίζει τις επιδράσεις του βάρους στις αρθρώσεις των παχύσαρκων ατόμων, με αποτέλεσμα μακροχρόνια να μην υπάρχουν τραυματισμοί.
Ωστόσο, όπως γνωρίζουμε η επιλογή της φυσικής δραστηριότητας από ένα παχύσαρκο πελάτη είναι μία δύκολη υπόθεση! Προτιμήστε, λοιπόν να αντιμετωπίσετε τον πελάτη σας εξατομικευμένα, ώστε να επιλέξει εκείνη τη δραστηριότητα που θα κάνει με ευχαρίστηση για να την υιοθετήσει πιο εύκολα.
Το στίγμα της παχυσαρκίας
Ιδιαίτερο ενδιαφέρον υπήρξε στη λήξη μίας ομιλίας στην οποία συμμετείχαν ειδικοί από τον Καναδά. Πιο συγκεκριμένα, μία παχύσαρκη ειδικός υγείας απευθύνθηκε στους ομιλητές για να εκφράσει τη δυσαρέσκειά της σχετικά με τον τρόπο που ανέφεραν τις στρατηγικές μείωσης της παχυσαρκίας. Ήθελε να ξεκαθαρίσει ότι η λέξη "obese" χρησιμοποιείται για να εκφράσει μία κατάσταση στην οποία υπάρχει η απουσία φυσικής δραστηριότητας και ένας ανθυγιεινός τρόπος διατροφής, σε αντίθεση με τη λέξη "fat" που αντικατοπτρίζει μόνο το αυξημένο βάρος. Σε αυτό το σημείο έγινε μάλιστα αναφορά και από τους ειδικούς από τον Καναδά, ότι υπάρχει ένας μεγάλος αριθμός παχύσαρκων ατόμων που χαρακτηρίζονται ως "coach potato" και οι στρατηγικές μείωσης της παχυσαρκίας απευθύνονται κυρίως σε αυτούς.
Τι ένιωσα εγώ; Η συγκεκριμένη ειδικός υγείας ήθελε να τονίσει ότι καλό θα ήταν να υπάρχει ένας κατάλληλος διαχωρισμός σε αυτές τις 2 κατηγορίες, καθώς ο ίδιος τρόπος προσέγγισης δεν είναι πάντα και αποτελεσματικός!
Τι να κρατήσετε;
Ο παχύσαρκος πελάτης σας έχει αισθήματα και τις περισσότερες φορές δεν είναι ευχάριστα! Αντιμετωπίστε τον εξατομικευμένα και δώστε του να καταλάβει τα οφέλη που έχει ο υγιεινός τρόπος ζωής!
Πόσο σημαντική είναι η παχυσαρκία στα παιδιά για την επιλογή των φίλων τους;
Μία από τις πιο ωραίες ομιλίες ήταν αυτή του J.Charsley (Αγγλία) στην οποία παρουσίασε μέσα από μία μελέτη τον τρόπο με τον οποίο βλέπουν τα παιδιά ηλικίας δημοτικού τη «διαφορετικότητα» και αν τελικά η παχυσαρκία αποτελεί ένα «σημαντικό» κριτήριο για την επιλογή των φίλων τους.
Λίγα λόγια για τη μελέτη
84 παιδιά με μέσο όρο ηλικίας τα 5,7 έτη ρωτήθηκαν ένα μεγάλο φάσμα ερωτήσεων σχετικά με την επιλογή των φίλων. Οι απαντήσεις που έδιναν ήταν μέσα από έτοιμες παιδικές ζωγραφιές-σκίτσα, τα οποία κάθε φορά χρησιμοποιούσαν. Οι ζωγραφιές παρουσίαζαν παχύσαρκα παιδιά, αντίθετου φύλου, σε αναπηρικό αμαξίδιο, αλλά είχαν και το υγιούς βάρους παιδί, όπως φαίνεται και στην παρακάτω εικόνα.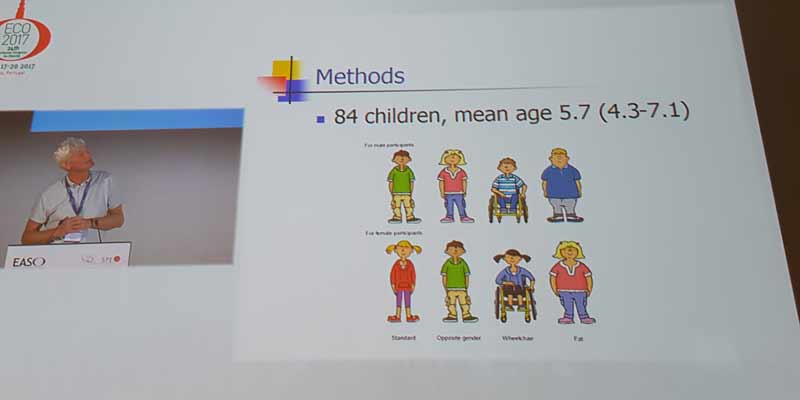 Ωστόσο, αυτό που φάνηκε μέσα από τις απαντήσεις των παιδιών, είναι ότι το να είσαι παχύσαρκος, αντίθετου φύλου ή σε αναπηρικό αμαξίδιο αναγνωρίζεται ισάξια ως διαφορετικό από τα παιδιά. Μάλιστα, τα παιδιά διάλεγαν ως «διαφορετικό» σκίτσα τα οποία ήταν αντίθετου φύλου, είχαν διαφορετικά μαλλιά, ήταν σε αμαξίδιο, ενώ το μεγαλύτερο ποσοστό διάλεξε αυτά που φορούσαν διαφορετικά ρούχα.
Το συμπέρασμα που έβγαλαν;
Είναι σημαντικό να γνωρίζουμε – ειδικά τα άτομα που δουλεύουν με παιδιά- ότι οι μικροί μας φίλοι βλέπουν τον κόσμο με διαφορετική οπτική ματιά! Το περιβάλλον και οι επιρροές που λαμβάνει το κάθε παιδί, μετά την παιδική του ηλικία, καθορίζουν τελικά την άποψή του για την παχυσαρκία και το στίγμα που δημιουργείται γύρω από αυτή.
Η επίδραση της ενυδάτωσης στην απώλεια/διατήρηση του βάρους
Στην ομιλία αυτή παρουσιάστηκε μία ολοκληρωμένη εικόνα για τη σημασία της ενυδάτωσης στην απώλεια, καθώς και τη διατήρηση του βάρους. Αυτό που τόνισε η ομιλήτρια είναι ότι στις περισσότερες χώρες του εξωτερικού υπάρχει μεγάλη ποικιλία ροφημάτων για ενυδάτωση. Ωστόσο, τα ροφήματα αυτά έχουν προσθήκη ζάχαρης, την οποία οι καταναλωτές δεν την αναγνωρίζουν και συνεπώς, φάνηκε ότι υπάρχει μεγαλύτερη η ανάγκη για της μείωσή της.
«Γιατί δεν πίνουν νερό;» ήταν μία από τις ερωτήσεις του κοινού. Η απάντηση που έδωσε η ομιλήτρια ήταν ότι το νερό αποτελεί την πιο υγιεινή επιλογή μεταξύ όλων των ροφημάτων που κυκλοφορούν στο εμπόριο. Ωστόσο, στις περισσότερες ευρωπαϊκές χώρες το κόστος του νερού είναι υψηλό, αλλά και η γεύση του διαφέρει με αποτέλεσμα να μην αποτελεί την πρώτη επιλογή των κατοίκων. Παρόλα αυτά, η ίδια ανέφερε τη σημαντικότητα αυτού στην υγεία μας, καθώς και ότι ως διαιτολόγοι θα πρέπει να τονίζουμε στους πελάτες μας το ρόλο της ενυδάτωσης έχοντας ως 1η επιλογή το νερό.
Πώς διαχειρίζονται οι διαιτολόγοι την παχυσαρκία στην Ευρώπη;
Στην παρουσίαση αυτή η Ε. Govers παρουσίασε τα αποτελέσματα από μία μελέτη 24 χωρών – συμπεριλαμβανομένου και της Ελλάδας- η οποία είχε ως στόχο να παρατηρήσουν πως 185 διαιτολόγοι της Ευρώπης αντιμετωπίζουν την παχυσαρκία. Μερικές από τις απαντήσεις των διαιτολόγων που είχαν ενδιαφέρον, φάνηκε ότι:
Οι άνδρες χάνουν περισσότερο βάρος σε σχέση με τις γυναίκες (66 έναντι 17, και 28 διαιτολόγοι απάντησαν ότι δε βλέπουν διαφορά).
Οι γυναίκες προσλαμβάνουν ξανά το βάρος τους πιο εύκολα σε σχέση με τους άνδρες (57 έναντι 22, και 51 διαιτολόγοι απάντησαν ότι δε βλέπουν διαφορά).
Μερικά από τα εμπόδια για τη διατήρηση του βάρους είναι η μη συχνή επαφή με το διαιτολόγο, η έλλειψη χρόνου και γνώσης στα τρόφιμα, υποεκτίμηση του θερμιδικού περιεχομένου των τροφίμων, τα οικονομικά προβλήματα, κ.α.
Σχεδόν οι μισοί διαιτολόγοι της μελέτης δε χρησιμοποιούν την περιφέρεια μέσης ως διαγνωστικό στη διατολογική πρακτική.
Από το σύνολο των ερωτηθέντων οι 84 ήταν κλινικοί διαιτολόγοι, ενώ οι 86 σε διαιτολογικό γραφείο, τονίζοντας η ομιλήτρια τη σημαντικότητα του διαιτολόγου στην ιδιωτική πράξη.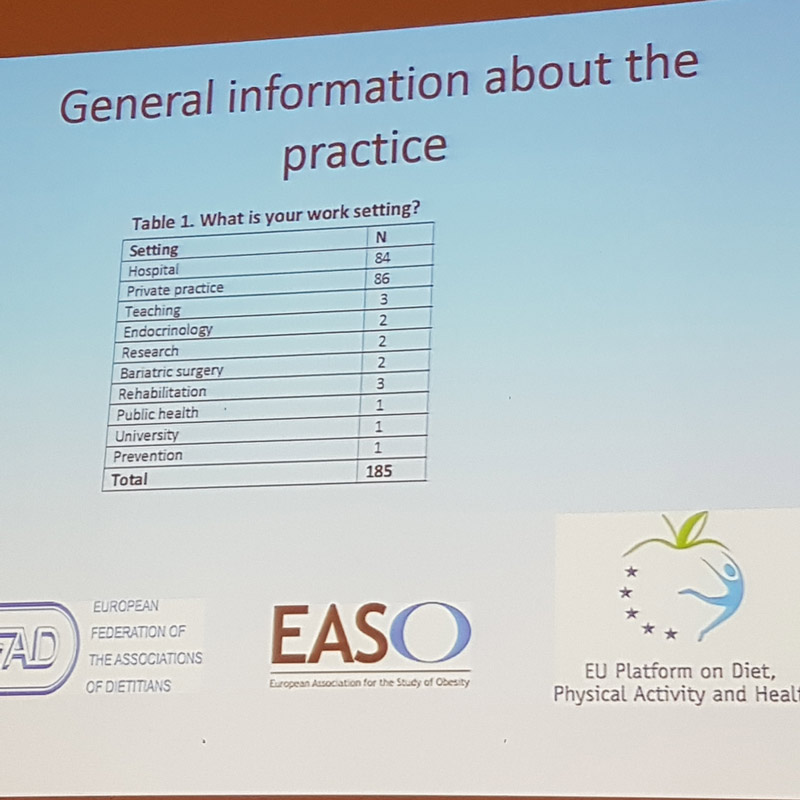 Ελπίζω με το άρθρο μου αυτό να κατάφερα να σας παρουσιάσω ένα μικρό δείγμα από αυτό που έζησα στις τόσο όμορφες και διαδραστικές ομιλίες του συνεδρίου αυτού. Μην ξεχνάτε ότι ο ρόλος του διαιτολόγου είναι ιδιαίτερα σημαντικός στην αντιμετώπιση της παχυσαρκίας, βλέποντας τον κάθε μας πελάτη μοναδικό!
Ραντεβού... στο 25ο Πανευρωπαϊκό Συνέδριο της Παχυσαρκίας στην Αυστρία!